Honda Brio – A Compact Car Suitable for the city
Honda Motor Company, a Japanese automaker, operates in India through their Indian arm, Honda Motors India Pvt. Ltd. Some of their most popular cars include the Honda City and Amaze. Both these cars have become best sellers in their segments and have brought many accolades to Honda. Another car that did good business in India was the Brio.
Though traditionally Honda has always introduced big cars like sedans and utility vehicles, in India, they had to change their strategies. Here, the demand for small cars was far more than the demand for big cars. Their affordability, ease of use and higher fuel efficiency, couple with maneuverability on the congested Indian roads make a strong case in favour for small cars in India.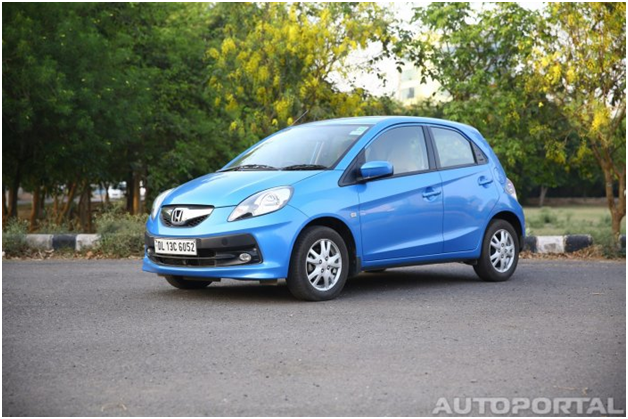 As the company understood the preferences and tastes of the Indian customer better, Honda decided to bring in a small car in India. Eventually, the Brio made its debut in Indian market in 2011. It aimed to capture a major chunk of the Indian small car segment from the likes of Maruti and Hyundai. This proved to be a wise move as the sales figures of Honda improved considerably and it also led to the introduction of Amaze, the sub-compact sedan that changed the fortunes of Honda in India. Anyways, the Brio revived the prospects of Honda and heated up the competition in the hatchback segment.
Honda had introduced the Brio targeting the youth as well as those buyers who prefer style and visual appeal on their car. The Brio is a unique looking car, which is trendy and visually pleasing, and youngsters feel drawn to it.
Honda Brio has been positioned below the Jazz in the Indian market. It comes for an ex-showroom price tag of INR 3.99 lakh to 5.99 lakh. Its competitive pricing, space and overall comfort are the major attractions of Brio.
Honda Brio is powered by the 1.2 litre i-vtec petrol engine featured in the Jazz. It produces 88PS of maximum power at 6000 rpm and the peak torque is 109NM at 4600 rpm. The car offers either a five-speed manual gearbox or a five-speed automatic. This high performance car returns a great mileage of 18.4kmpl.
As this is a low cost car according to Honda standards, the maker had to compromise on the quality of some parts, and the interiors are done in plastic, to cut costs. Even so, overall quality of the car has not been affected.
Five people can travel in the Brio quite comfortably. However, even though there is enough legroom, headroom and shoulder space for each of these passengers, there is not much boot space in the Brio.
Brio is a compact car perfectly suited for city traffic.
Also Check out Maruti Suzuki Celerio – http://autoportal.com/newcars/marutisuzuki/celerio/